There are many proxy providers available in the market and not all of them are good, so it's very important to choose the right one before you start working with them. To make your work a little easier we have discussed two of the most popular proxy providers- Bright Data and MobileHop.
In this article, we will not only discuss these proxy service providers but also see how Bright Data stands in front of MobileHop in the market and which one out of them is a much better choice. But before we head towards that you need to understand what exactly proxies do and why are they important.
They are intermediary servers that enable the connection between two devices on a network like between you and your internet. Proxies are used by the people most to automate the online processes, boost web privacy, minimize geo-restrictions of the IP addresses, bypass firewalls, and automate the online processes.
There are several varieties of proxies available in the market and all act as a gateway between you and the internet. In all, if you wish to speed up your internet connection, hide your IP address, or automate a large number of tasks then proxies are what you need.
Bright Data vs MobileHop: Which Proxy Provider Should I opt for?
Bright Data
What is Bright Data?
Bright Data is a very popular web data platform that was formerly known as Luminati. The Luminati network becomes Bright Data to focus on continuous innovation and web transparency. Bright Data is a powerful proxy network that lets you browse anonymously from anywhere. It provides responsible data collection as it is ethical and legally compliant (CCPA and GDPR).
The network is monitored by both manual checks and automated in addition to the external audits to ensure its proper working. Bright Data is socially very responsible it is used for purposes that can benefit society, it increases transparency on the internet, detect and prevent malicious online behavior like enhancing cyber security and detecting malware in digital marketing.
To ensure that its customers are using it for the right purpose and not serving any anti-social cause Bright Data does a user compliance evaluation in which the customers buying Residential and Mobile IP proxies have to demonstrate a legitimate use of Bright Data before getting its access. Bright Data also does network monitoring and data retention to confirm that its customers are doing something that is matching their stated use cases and if that doesn't happen the user is blocked in real-time and urgently investigated.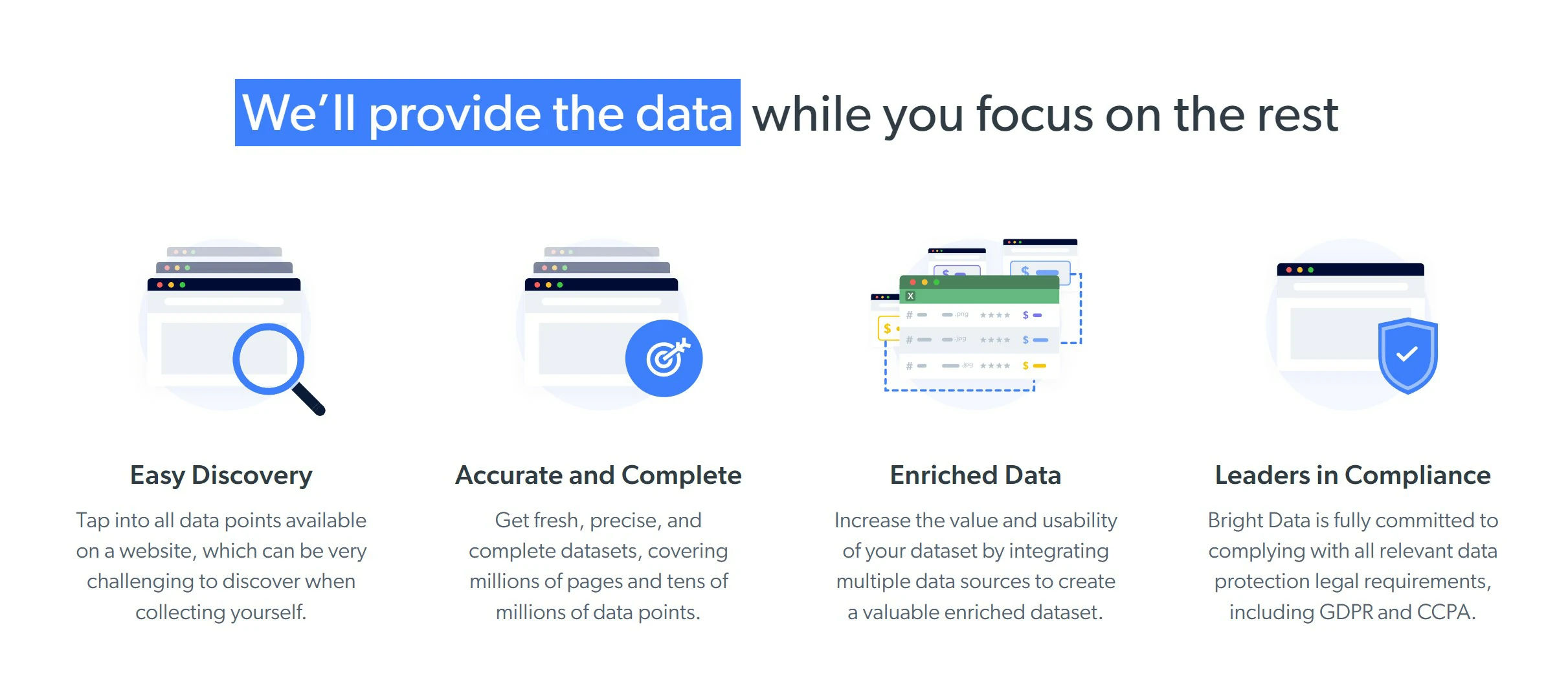 Bright Data has a large global coverage and is continuously expanding into new territories and locations. Many companies, small businesses, and institutions rely on its solution to retrieve important public web data in the most reliable, flexible, and efficient form, so that they can analyze data, research, monitor and make decisions smartly.
Pricing of Bright Data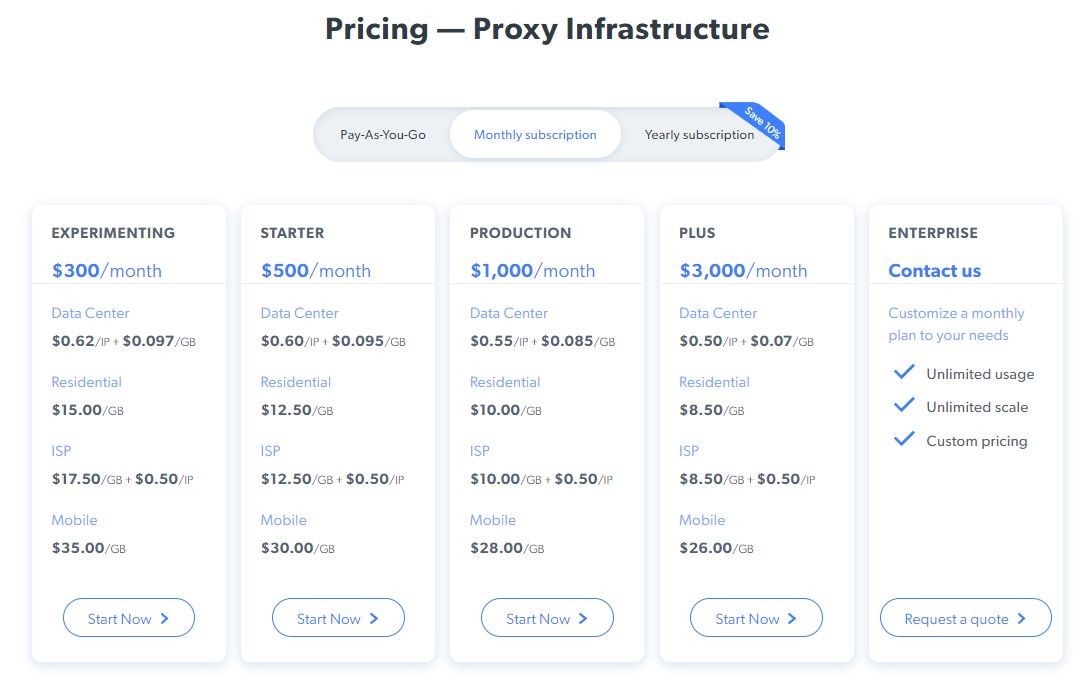 Bright Data has very flexible pricing options. It offers payment options of three types- Pay-As-You-Go, Monthly subscription, and Yearly subscription. And there are five types of pricing plans available.
Pay-As-You-Go has Data Center at $0.90/IP+$0.12/GB, Residential at $25.00/GB, ISP at $29.00/GB+$0.50/IP, and Mobile T at $60.00/GB. Monthly subscription plans have the Starter at $500/month, Production at $1,000/month, plus a $3,000/month, and Enterprise where you can customize a plan according to your requirement. A yearly subscription has the Experimenting billed at $3,240/year, Starter billed at $5,400/year, Production billed at $10,800/year, Plus billed at $32,400/year, and lastly Enterprise where you can customize a plan according to your requirements.
MobileHop
What is MobileHop?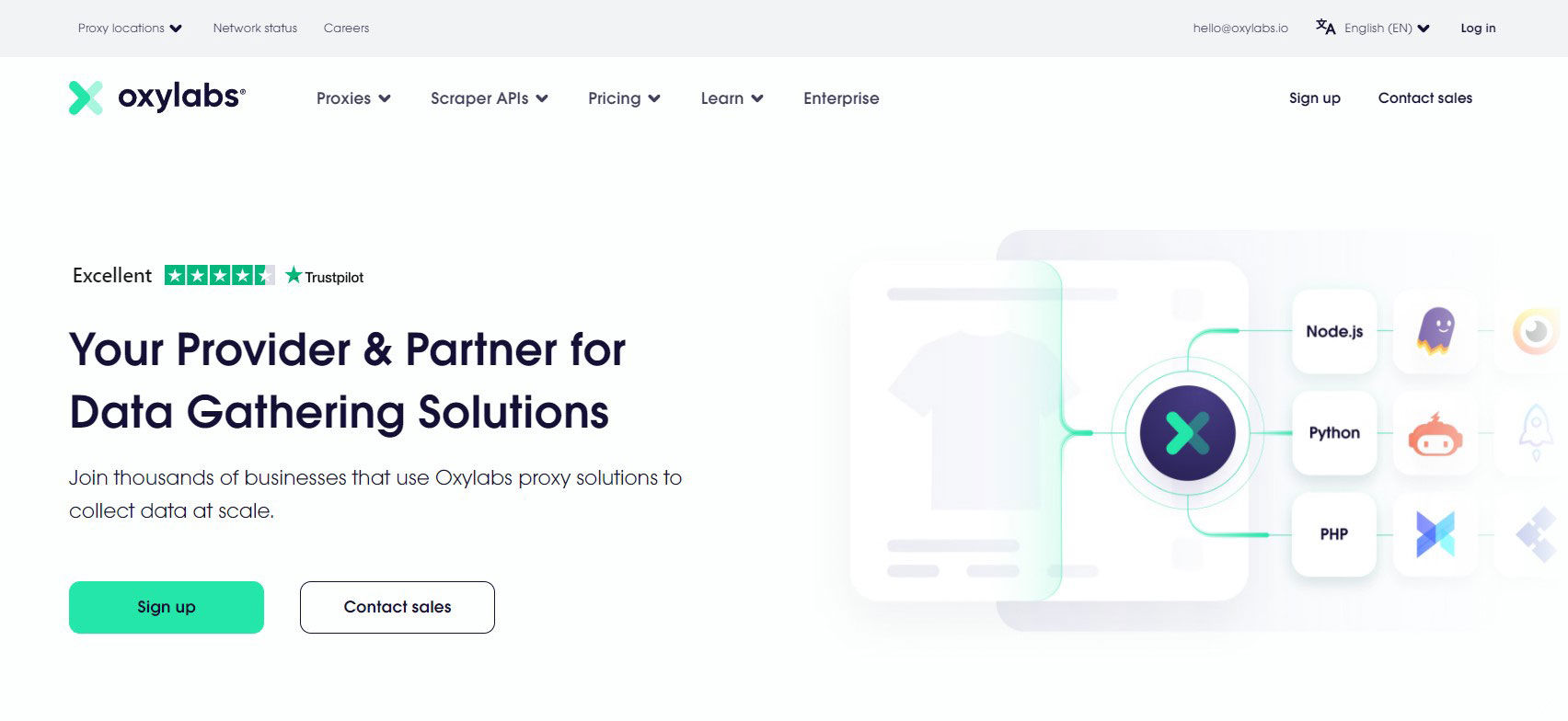 MobileHop is operating since 2020 and become one of the leading tech companies that deliver premium proxies along with strong enterprise-level support to the customers. It has a huge global coverage; it is spread out in multiple locations.
MobileHop provides proxy and VPN services. They use Verizon Wireless and AT&T enterprise-grade 5G modems to give real mobile IP addresses with the fastest and most dependable proxy speeds. With over 47 different places to pick from, you'll have access to millions of mobile IPs from all over the United States.
MobileHop strives for 99.9% uptime for 5G proxies since they understand how essential your jobs are and want to provide you with the finest service possible.
MobileHop employees have worked relentlessly to provide clients with high-quality products and services. Our team is constantly searching for new methods to improve and develop what is feasible in this industry, and they believe the services are at the cutting edge of what 5G Proxies can give.
Pricing of MobileHop
MobileHop offers plans under SingleHop and MultiHop. With SingleHop, you can get started at $8 per day and goes up to $180 monthly.
Under MultiHop, you can start at $16 per day and goes up to $225 monthly.
Why choose MobileHop?
There are a lot of reasons for choosing MobileHop. As you know no matter how great a product is without great customer support it is nothing, MobileHop gets full marks in this field, it provides premium customer support means it has out-of-the-box support that has well-trained professionals who connect with the users whenever they need them. In all, the team of Oxylabs offers round-the-clock support allowing its users to connect with them at any hour of need, it also offers custom-made configurations to cater to the needs of its clients.
Another thing that makes MobileHop stand out is its global coverage, it is widely spread all across the world enables the customers to use it irrespective of their location. The performance it offers is also a key factor in choosing Oxylabs, it is known to deliver great performance to the customers and scale up their business in a minimum period, it also helps the business companies to fetch real-time business intelligence information and render enterprise-level support.
Since they understand how important your jobs are to you, MobileHop works to guarantee 99.9% uptime for our 4G and 5G mobile proxies. The company want to give you the finest service we can.
For AT&T 4G Proxy and Verizon 4G Proxy, the speeds provided by our mobile proxy services are faster than any others in the sector. You should expect speeds of at least 50 Mbps and possibly even close to 80 Mbps. High-end computers, network hardware, and fibre optic cabling are used throughout our system, which was constructed from the ground up.
The Conclusion
Selecting a trustworthy and good-working proxy provider is not easier but we have tried to come up with a brief explanation to make your job easier. Out of the two proxy providers, both are great proxy providers, however, MobileHop has been serving for several years now making it a highly trusted option to try out and at the same time, it delivers highly justified pricing.
It delivers valuable online data and promotes web transparency, fights social injustice, and encourages responsible data collection through research and education. It is the world's number one proxy network provider and a leading data collection platform in the market. MobileHop surely is a perfect choice and a better option than the other proxy provider as it provides the world's best performance.